Aldergrove General & Family Dentistry
Dental Implants in Aldergrove
Restorative Dentistry
Dental Implants Near You
When you've had one or more teeth removed, it's normal to feel concerned about the future of your teeth and smile. Dental implants are an innovative dental procedure that can replace natural roots and support other restorative structures, such as a dental crown or bridge, so that you can recapture your beautiful and healthy smile. We're official members of the Apple Dental Implant Centre, allowing us to perform dental implant procedures on location for your convenience.
Am I a Candidate for Dental Implants?
A dental implant is ideal for anyone with a strong jawbone, healthy gums, and one or more teeth that are missing. The dental implant is installed directly into the jaw, with a post that connects to a dental crown, bridge, or partial denture to restore your ability to chew and natural bite.
What Is a Dental Implant?
A dental implant is a permanent post of titanium fastened into the jawbone to act as an artificial root for false teeth. Once the post is secured, a dental crown, partial denture, or dental bridge can be fastened in place for a sturdy, comfortable fit.
Contact Us
Request Appointment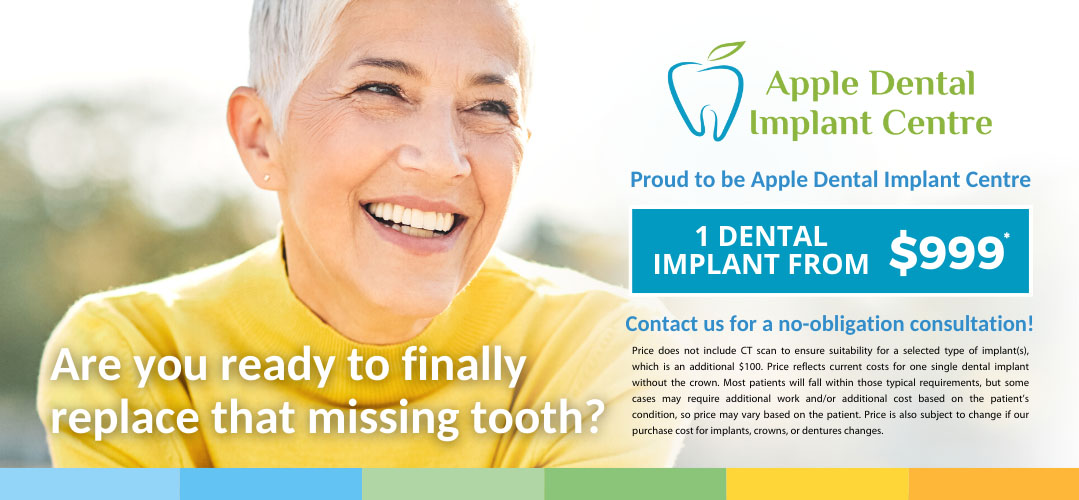 New Patients Welcome
Book Your
Appointment Today